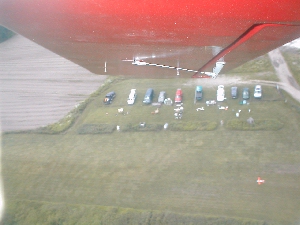 Who Are We?:
The Quinapoxet Model Flying Club is a small club located off Rt. 110 in Lancaster, Massachusetts, in an area known as the Bolton Flats. As a club, we seek to promote the R/C hobby through the teaching, building and flying of radio controlled aircraft, in accordance with both AMA and club rules.

Visiting flyers (with AMA) are welcome as are spectators. Please, no pets. Click here for detailed directions. Click here for the latest field conditions.

What do we do?:
We primarily focus on R/C sports, sport scale, pattern and scale aerobatics. We also have quite a Gremlin combat following. We do have a few club members who fly helicopters at the field. Other members who like to fly gliders or compete in racing events tend to belong to other clubs.

Flight Instruction & Flight Tests:
The QMFC encourages new members to the club and to the hobby. Therefore, we maintain a staff of very experienced Flight Instructors. Flight instruction is free of charge to QMFC members in good standing. See more information under "Our Club". Click on either Basic Level or Advanced Level to see our flight qualifying programs.
Club Meetings:
Club meetings are held at Paul's house on the second Monday of each month except for July and August. New members are welcome to come along. For directions please contact the webmaster or call 978-779-9860. The December meeting is our annual Holiday Party.
Newsletter:
We publish a newsletter bi-monthly for club members.. The current newsletter is available here. Please note you will need the membership login credentials to view the Newsletter
News:
2007 Dues are up: At the November membership meeting it was voted that the 2007 club dues for regular members will be increased from $15.00 to $25.00. Junior membership dues will remain unchanged at $6.00 as will the iniation fee for new and lapsed members of $50.00. The $2.00 gate key fee is eliminated since we are now using a combination lock.
Holden: The proposed new field at the Holden Old Land-fill is now on a 1 month (Through November). If the town gets no objection or complaints then we will go permanent in December. Bob is looking for volunteers to help prepare the field for flying this weekend. If youu can help, please call Bob. Location is 350 River Street, Holden, MA
Bob Caras is a new member to our club and he is currently building his trainer aircraft. Bob has kindly made the following offer to QMFC club members:

"I would like to extend our services to all club members for any hobby specific small metal repairs, i.e. welding..etc., within reason, no charge.
As a new member, and a beginner, It's a wonderful opportunity for me to meet members on a more personal level."
Bob Caras
Events:
June 17: Annual Spring (2006) FunFly (click for pictures)
The Killing Season is Back again. Fly Sundays only
The RULES are:
SUNDAY FLYING is now a 10:00 start
Alternative flying is any day at the new Holden field

Check out our Highlight site:
RC Helicopters- RC Planes Guide